Summary
Jesus the prayer warrior
Jesus was dependent on prayer for empowerment and to hear from God. (Luke 3:21-22, Luke 5:16, Luke 6:12, Luke 9:28, Luke 11:1-4, Luke 22:39-46, Mark 1:35, Mark 6:46) It was while Jesus was praying that the Holy Spirit descended on him, and the voice of God came from heaven. (Luke 3:21-22) Jesus would withdraw to desolate places and pray. (Luke 5:16, Mark 1:35) While he was in the wilderness, angels were ministering to him. (Mark 1:13) When he came out of the wilderness, he returned in the power of the Spirit. (Luke 4:14) Jesus often went out to the mountain to pray. (Luke 6:12, Mark 6:46) At times he also took disciples with him to the mountain to pray. (Luke 9:28) It was his routine to go pray on the Mount of Olives. (Luke 22:39-46) He would continue all night in prayer to God. (Luke 6:12) Other times he would rise up before dawn and go to a desolate place, and there he prayed. (Mark 1:35) And when he saw the temple was being used as a market, he was outraged, saying, "It is written, 'My house shall be a house of prayer.'" (Luke 19:46)
To Jesus, prayer was a process of humbling yourself before God, being under the influence and sanctified by the Holy Spirit, receiving revelation and empowerment from God, remaining in a state of forgiveness, and averting temptation. (Luke 11:1-4) As Jesus knew the time to suffer a horrible death was drawing near, he knelt down and prayed to resist the temptation to deviate from God's plan, saying, "Father, if you are willing, remove this cup from me. Nevertheless, not my will but yours be done." (Luke 22:39-46) Due to this prayer, an angel from heaven appeared to him, strengthening him. (Luke 22:43) Being in agony, he prayed more earnestly. (Luke 22:44) And as Jesus surrendered his life, his final cry was, "Father, into your hands I commit my spirit!" (Luke 23:46)
References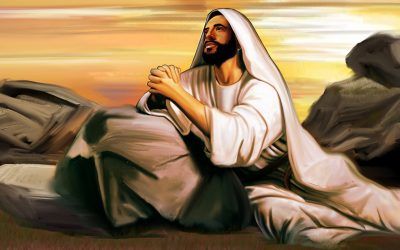 Summary
The power that Jesus got from prayer
Supernatural phenomena would occur in the life of Christ during times of prayer including manifestations of the Holy Spirit, the ministry of healing, the casting out of demons, the appearance of angels and the transfiguration. (Luke 3:21-22, Luke 10:17-24, Luke 22:43) Jesus affirmed his anointing saying, "The Spirit of the Lord is upon me." (Luke 4:16-21) He told his disciples, "Truly, truly, I say to you, you will see heaven opened, and the angels of God ascending and descending on the Son of Man." (John 1:51) We know how God anointed Jesus of Nazareth with the Holy Spirit and with power – He went about doing good and healing all who were oppressed by the devil, for God was with him. (Acts 10:37-38) The power of the God was with him to heal. (Luke 5:17) Those who were troubled with unclean spirits were cured, and the crowds sought to touch him, for power came out from him and healed them all. (Luke 6:18-19) When a woman touched the fringe of his garment, she was healed. (Luke 8:44) For Jesus could perceive that power had gone out from him. (Luke 8:46) Jesus gave his disciples similar power and authority over all demons and to cure diseases, sending them to proclaim the kingdom of God and to heal. (Luke 9:1-2, Luke 10:9) When a disciple could not cast out a demon, Jesus' response was, "This kind cannot be driven out by anything but prayer." (Mark 9:29)
References
Summary
The power of prayer in Acts
After the resurrection of Christ, the Apostles were waiting in Jerusalem for the promise of the Father to be baptized with the Holy Spirit and to be clothed with power from on high. (Luke 24:49, Acts 1:4-5) When they were in Jerusalem, they would meet in an upper room where they were staying. (Acts 1:12-13) The apostles with one accord were devoting themselves to prayer, together with the women and Mary the mother of Jesus, and his brothers. (Acts 1:13-14) When the day of Pentecost arrived, they were all filled with the Holy Spirit and began to speak in other tongues as the Spirit gave them utterance. (Acts 2:1-4) This was the fulfillment of what was uttered through the prophet Joel, that in the last days, God declares, I will pour out my Spirit on all flesh.' (Acts 2:16-18) Those who believed in the message of Jesus devoted themselves to the apostles' teaching and the fellowship, to the breaking of bread and the prayers as awe came upon every soul, and many wonders and signs were being done. (Acts 2:42-43) The apostles devoted themselves to prayer and to the ministry of the word. (Acts 6:4)
When the apostles came under opposition, they lifted up their voices together to God and prayed for boldness, saying, "Grant to your servants to continue to speak your word with all boldness, while you stretch out your hand to heal, and signs and wonders are performed through the name of your holy servant Jesus." (Acts 4:23-30) And when they had prayed, the place in which they were gathered together was shaken, and they were all filled with the Holy Spirit and continued to speak the word of God with boldness. (Acts 4:31) The apostles also selected ministers and prayed and laid their hands on them. (Acts 6:6) When Samaria had received the word of God, Peter and John came down and prayed for them that they might receive the Holy Spirit. (Acts 8:14-15) They laid their hands on them, and they received the Holy Spirit. (Acts 8:17) When a woman named Tabitha had died, Peter knelt down and prayed; and turning to the body he said, "Tabitha arise." (Acts 9:36-40) After he opened her eyes, Peter called the saints and widows presenting her alive. (Acts 9:40-41) Paul also healed the sick by praying and the laying on of hands. (Acts 28:8-10)
It was while Peter was praying on a housetop that he had the vision to share the gospel with the Gentiles. (Acts 10:9-19) Correspondingly, while Cornelius, a devout man who prayed continually to God, was praying, an angel stood before him and directed him to assist Peter with his mission. (Acts 10:1-2, Acts 10:30-33) God coordinated the ministry of the gospel through ministers who were devoted to prayer. (Acts 14:23)
References
Summary
Guidelines Jesus gave for prayer
After Jesus was finished praying in a certain place, one of his disciples said to him, "Lord, teach us to pray, as John taught his disciples." (Luke 11:1) Jesus' response varies in different Greek manuscripts, as later manuscripts attempted to harmonize the instructions of Jesus in Luke 11:1-4 with the Lord's prayer in Matthew 6:9-13. Luke provides more direct and concise instructions and of particular interest. Below is a breakdown of the five points of how Jesus instructed to pray. There are a couple of manuscripts that read, for Luke 11:2, "May your Holy Spirit come upon us and cleanse us" in Luke 11:2 (See 2B below)
Luke 11:2-4 (formatted as a list)
When you pray, say:
Father, hallowed be your name
2A. Your kingdom come (your will be done)
2B. Your Holy Spirit come on us and cleanse us (variant reading)
3. Give us each day our daily bread
4. Forgive us our sins, for we ourselves forgive everyone who is indebted to us
5. Lead us not into temptation
Jesus conveyed the concept that God responds to us not just because we are a friend, but because of our willingness to be assertive and uninhibited in asking him for our needs. (Luke 11:5-8) Jesus said, "Ask, and it will be given to you; seek, and you will find; knock, and it will be opened to you. For everyone who asks receives, and the one who seeks finds, and the one who knocks, it will be opened." (Luke 11:9-10) Our Father will not give us a bad thing for asking for a good thing. (Luke 11:11-12) If those who are evil give good gifts to their children, much more will the heavenly Father give the Holy Spirit to those who ask him! (Luke 11:13) Notice the connection of asking for the Holy Spirit in Luke 11:13 and Jesus' instructions for praying, "Your Holy Spirit come on us and cleanse us" (the variant reading of Luke 11:2). In prayer, we are to seek being filled with the Holy Spirit as Jesus was.
Below is a detailed description of the five core elements of Jesus' instructions for prayer according to Luke 11:2-4 in the section above.
References
Summary
1. Father, hallowed be your name
We are to address our prayers to the one God and Father. The first step of the process is humbling yourself before God and declaring his greatness. We come to him in reverence and respect, lowering ourselves before him. We declare his holiness and majesty. We affirm that he is so far beyond us in power and wisdom. We enter into prayer through worship.
For God to hear our prayers, we want to be in Gods' presence. And so, we come into prayer seeking the presence of God. It is good to be near to God. (Psa 73:28) When we draw near to God, God draws near to us. (Jam 4:8) The primary way we draw near is through purifying our hearts and humbling ourselves. (James 4:9). And we worship declaring his glory as the congregation in heaven all day and night never cease to say, "Holy, holy, holy, is the Lord God Almighty, who was and is and is to come!" (Rev 4:7-8) We cast our crowns before the throne saying "Worthy are you, our Lord and God, to receive glory and honor and power, for you created all things, and by your will, they existed and were created." (Rev 4:10-11)
Without faith, It is impossible to please God, for whoever would draw near to God must believe that he exists and that he rewards those who seek him. (Heb 11:6) Faith is the assurance of things hoped for, the conviction of things not seen. (Heb 11:1) In coming to God in faith, with full conviction, we affirm the reality of God as the core truth that guides our reality. We should draw near with a true heart in full assurance of faith, with our hearts sprinkled clean from an evil conscience and our bodies washed with pure water. (Heb 10:22) Our perception should be that it is not a difficult thing at all for the Almighty God, our Heavenly Father, to resolve any issue we may face.

References
Summary
2A. Your kingdom come (your will be done)
"Your kingdom come" is a prayer to put God's agenda before your own. It is for God's will to be accomplished in your life and on the earth. We first need to be transformed, and align God's will with our own. We declare God's word in our prayers in alignment with his will – holding fast to his promises. We ask God to send us his light and truth so they can lead us. (Psa 43:3)
In great distress, Jesus prayed, "Father, if you are willing, remove this cup from me. Nevertheless, not my will, but yours, be done." (Luke 22:42) If God was willing, Jesus wanted the cup of suffering he was about to go through to be removed, yet he became obedient to death, even on a cross. (Phil 2:8) Therefor God exalted him and gave him a name above all other names so that every tongue would confess Jesus is Lord Messiah. (Phil 2:9) In the days of his flesh, Jesus offered up prayers and supplications, with loud cries and tears, to him who was able to save him from death, and he was heard because of his reverence. (Heb 5:7) Although he was a son, he learned obedience through what he suffered—And being made perfect, he became the source of eternal salvation to all who obey him, being designated by God a high priest. (Heb 5:8-10)
We are to have the mind that Christ had. (Phil 2:1-5) We are to obey, working out our own salvation with fear and trembling (Phil 2:12). It is God who works in you, both to will and to work for his good pleasure. (Phil 2:13) As children of God our goal is to become blameless and innocent, without blemish in the midst of a crooked and twisted generation, among whom we shine as lights in the world, holding fast to the word of life. (Phil 2:14-16) As obedient children, we are not to be conformed to the passions of our former ignorance. (1Pet 1:14) Jesus said after he had lifted up his eyes to his disciples, "Blessed are you who are poor, for yours is the kingdom of God." (Luke 6:20) As servants of God we commend ourselves in every way: by great endurance, in afflictions, hardships, calamities, beatings, imprisonments, riots, labors, sleepless nights, hunger; by purity, knowledge, patience, kindness, the Holy Spirit, genuine love; by truthful speech, and the power of God; with the weapons of righteousness for the right hand and for the left; through honor and dishonor, through slander and praise. We are treated as impostors, and yet are true; as unknown, and yet well known; as dying, and behold, we live; as punished, and yet not killed; as sorrowful, yet always rejoicing; as poor, yet making many rich; as having nothing, yet possessing everything. (2Cor 6:4-10) As Jesus said, "No one who puts his hand to the plow and looks back is fit for the kingdom of God." (Luke 9:62)
The Kingdom of God is in the midst of us. (Luke 17:21) It does not come in a way that can be observed. (Luke 17:20) Jesus said, "Truly, truly, I say to you, unless one is born again he cannot see the kingdom of God." (John 3:3) He said, "That which is born of the flesh is flesh, and that which is born of the Spirit is spirit. Do not marvel that I said to you, 'You must be born again.' The wind blows where it wishes, and you hear its sound, but you do not know where it comes from or where it goes. So, it is with everyone who is born of the Spirit." (John 3:6-8) When demons are cast out or the sick are healed by the power of God, the Kingdom of God has come upon us. (Luke 10:9, Luke 11:20) The kingdom of God is not a matter of eating and drinking, but of righteousness and peace and joy in the Holy Spirit. (Rom 14:17) The Holy Spirit is the guarantee of our inheritance until we acquire possession of it. (Eph 1:13-14) We pray for God's kingdom to come by praying for the Holy Spirit to come upon us. (see below)
References
Summary
2B. Your Holy Spirit come on us and cleanse us
The righteous men of old knew that the blessings of God came from going to the holy place and establishing an alter to God. We should also seek to go to the holy place in prayer. (Psa 43:3-4) Now that Christ has come, we are God's temple by God's Spirit dwelling within us – God's temple is holy, and we are to be that temple (1 Cor 3:16-17) Our bodies are temples of the Holy Spirit – we are not our own. (1 Cor 6:19)
In prayer we go through a spiritual decontamination process. We seek to be cleansed and sanctified by the Holy Spirit (2Thes 2:13, 1Pet 1:2). Through believing and repentance we receive the gift of the Holy Spirit. (Acts 2:38) If we confess our sins, he is faithful and just to forgive us our sins and to cleanse us from all unrighteousness. (1John 1:9) We seek to put off our old self which belongs to our former manner of life and is corrupt through deceitful desires, and to be renewed in the spirit of our minds to put on the new self, created after the likeness of God in true righteousness and holiness. (Eph 4:22-24) The new self is being renewed in the knowledge after the image of its creator. (Col 3:10) God saves us by the washing of regeneration and renewal of the Holy Spirit that he pours out richly on us through Jesus Christ. (Tit 3:5-6)
As obedient children, do not be conformed to the passions of your former ignorance, but as he who called you is holy, you also pursue holiness as it is written, 'you shall be holy, for I am holy.' (1Pet 1:14-16) The prayer of a righteous person has great power as it is working. (James 5:16) Seeking righteousness gives us the attention and favor of God (1Pet 3:12). We are to be baptized (immersed) by the purifying fire of the Holy Spirit. (Luke 3:16) Our body is a temple of the Holy Spirit that we receive from God – we are not our own. (1Cor 6:19-20) Since we have confidence to enter the holy places by the blood of Jesus, by the new and living way that he opened for us, let us draw near with a true heart in full assurance of faith, with our hearts sprinkled clean from an evil conscience and our bodies washed with pure water. (Heb 10:19-22) We must strive for the holiness without which no one will see the Lord. (Heb 12:14)
References
Summary
3. Give us each day our daily bread
Asking God for our daily bread is asking for the spiritual provisions that are needed for the day. The daily bread includes receiving an impartation of the nature of God as we subject ourselves to God's controlling influence. We come to God for our daily dose of the Holy Ghost as we continually need to recharge. Spiritual nourishment comes by the word of God and by renewal and regeneration in the Holy Spirit. As believers, we all eat the same spiritual food and drink the same spiritual drink. (1Cor 10:3-4) We are not to be drunk with wine but be filled with the Spirit. (Eph 5:18) According to God's mercy, we receive washing of regeneration and renewal of the Holy Spirit, that now is richly poured out on us through Jesus Christ. (Tit 3:5-6). God's love is poured into our hearts through the Holy Spirit that is given to us. (Rom 5:5)
Our problems and concerns are diminished, and we can transcend our circumstances as we encounter God and are transformed in the state of our mind and emotions. This is facilitated when we partake of the divine utterances of God and become activated in the Holy Spirit. (1Cor 14:4) What results from encountering God is that the power of God transforms us and changes both our hearts (resulting in the fruits of the Spirit) and our minds (resulting in revelation and inspiration). (Col 3:10)
We build ourselves up in the holy faith by praying in the Holy Spirit. (Jude 1:20) The Lord is the Spirit, and where the Spirit of the Lord is, there is freedom. (2Cor 3:17) By experiencing the glory of the Lord, we are being transformed into the same image from one degree of glory to another – For this comes from the Lord who is the Spirit. (2Cor 3:18) When the apostles prayed for boldness they said, "grant to your servants to continue to speak your word with all boldness, while you stretch out your hand to heal, and signs and wonders are performed through the name of your holy servant Jesus." (Acts 4:29-30) And when they had prayed, the place in which they were gathered together was shaken, and they were all filled with the Holy Spirit and continued to speak the word of God with boldness. (Acts 4:31)
We are to pursue love and earnestly desire spiritual gifts, especially that we may prophesy. (1Cor 14:1) No prophecy was ever produced by the will of man, but men spoke from God as they were carried along by the Holy Spirit (2 Peter 1:21). There are varieties of gifts, but the same Spirit; and there are varieties of service, but the same Lord; and there are varieties of activities, but it is the same God who empowers them all in everyone. (1Cor 12:4-6) To each is given the manifestation of the Spirit for the common good. (1Cor 12:7) For to one is given through the Spirit the word of wisdom, and to another the word of knowledge according to the same Spirit, to another faith by the same Spirit, to another gifts of healing by the one Spirit, to another the working of miracles, to another prophecy, to another the ability to distinguish between spirits, to another various kinds of tongues, to another the interpretation of tongues. (1Cor 12:8-10) All these are empowered by one and the same Spirit, who apportions to each one individually as he wills. (1Cor 12:11)
References
Summary
4. Forgive us our sins, for we ourselves forgive everyone who is indebted to us
When we ask God to forgive our trespasses, we are acknowledging that we are sinners in need of forgiveness. We draw near to God by cleansing our hands and purifying our hearts. (Jam 4:8) God opposes the proud but gives grace to the humble. (Jam 4:6) Rather than approach God with a self-righteous attitude, we come to God in humility – mourning and weeping on account of our transgressions. (Jam 4:9) If we humble ourselves before the Lord, he will exalt us. (Jam 4:10) We must be honest about our sins and confess them despite the discomfort in doing so. (1John 1:5-10) We cannot remain in denial about aspects of ourselves and our life that need to change. Those who think that they need nothing fail to realize that they are wretched, pitiable, poor, blind, and naked. (Rev 3:17) We must look at ourselves critically so that there are no blind spots. (Luke 6:41-42)
God is light, and in him is no darkness at all. (1John 1:5) If we say we have fellowship with him while we walk in darkness, we lie and do not practice the truth. (1John 1:6) But if we walk in the light, as he is in the light, we have fellowship with one another, and the blood of Jesus his Son cleanses us from all sin. (1John 1:7) If we say we have no sin, we deceive ourselves, and the truth is not in us. (1John 1:8) If we confess our sins, he is faithful and just to forgive us our sins and to cleanse us from all unrighteousness. (1John 1:9) If we say we have not sinned, we make him a liar, and his word is not in us. (1John 1:10)
As we are activated in the Spirit, greater revelation comes to us than at the point when we had begun to approach God in prayer. The discernment in the Spirit gives us insights of hindrances and obstacles in our walk with God. A major hindrance is unrealized sin that has to do with our prior actions, experiences, and interactions. It is critical to subject the depths of ourselves to examination by the Holy Spirit. This includes searching for places within our heart and mind that have residual hostilities and resentment. Usually, this pertains to people who hurt us, betrayed us, lied to us, violated our trust, broke promises, used us, abused us, misjudged us, slandered us, or otherwise let us down. God wants us to walk in freedom and newness of life, but we must first resolve any unforgiveness, hate, and bitterness. If we surrender our hard hearts, God will bring healing to us by the power of his Spirit. (Jam 5:15-16)
For if you forgive others their trespasses, your heavenly Father will also forgive you, but if you do not forgive others their trespasses, neither will your Father forgive your trespasses. (Mat 6:14-15) So if you are offering your gift at the altar (of prayer) and there remember that your brother has something against you, leave your gift there before the altar and go – First be reconciled to your brother, and then come and offer your gift. (Mat 5:23-24) We must let all bitterness, wrath, anger, clamor, and slander be put away from us, along with all malice. (Eph 4:31) We must be kind to one another, tender hearted, forgiving one another as God in Christ forgave us. (Eph 4:32) As ones holy and beloved, put-on compassionate hearts, kindness, humility, meekness, and patience, bearing with one another and forgiving each other; as the Lord has forgiven you, so you also must forgive. (Col 3:12-13). Above all put on love, which binds everything together in perfect harmony. (Col 3:14)
References
Summary
5. Lead us not into temptation (but deliver us from evil)
Lead us not into temptation is a prayer to remain clean and holy once the power of God has sanctified us and renewed us. Praying for the strength to resist temptation is something that Jesus emphasized saying, "the spirit is willing, but the flesh is weak." (Mark 14:38) We strive to remain obedient and submitted to God's will as we remain unstained from the world. (Jam 1:27) Those who are loved by God are called to be holy "saints." (Rom 1:7) Through Christ, we have access in one Spirit to the Father so that we are no longer strangers and aliens, but fellow citizens with the saints and members of the household of God. (Eph 2:18-19) We are to examine everything – holding fast to what is good and abstaining from every form of evil. (1Thes 5:20-21) In doing so we receive revelation through prayer of things we need to cut out of our life and changes that should be made to our lifestyle and activities that prevent us from being in situations where we will be tempted. We should not grieve the Holy Spirit by going against the controlling influence of God. (Eph 4:30)
Let not sin reign in your mortal body, to make you obey its passions. (Rom 6:12) Do not present your members to sin as instruments for unrighteousness – but present yourselves to God as those who have been brought from death to life, and your members to God as instruments for righteousness. (Rom 6:13) If you present yourselves to anyone as obedient slaves, you are slaves of the one whom you obey, either of sin, which leads to death, or of obedience, which leads to righteousness. (Rom 6:16) Thanks be to God, that you who were once slaves of sin have become obedient from the heart to the standard of teaching to which you were committed, and, having been set free from sin, have become slaves of righteousness. (Rom 6:17-18) Just as you once presented your members as slaves to impurity and to lawlessness leading to more lawlessness, so now present your members as slaves to righteousness leading to sanctification. (Rom 6:19)
Humble yourselves, under the mighty hand of God so that at the proper time he may exalt you, casting all your anxieties on him, because he cares for you. (1Pet 5:6-7) Be sober-minded; be watchful. Your adversary the devil prowls around like a roaring lion, seeking someone to devour. (1Pet 5:8) Resist him, firm in your faith, knowing that the same kinds of suffering are being experienced by your brotherhood throughout the world. (1Pet 5:9) And after you have suffered a little while, the God of all grace, who has called you to his eternal glory in Christ, will himself restore, confirm, strengthen, and establish you. (1Pet 5:10)
As for us, the people of God, we should pursue righteousness, godliness, faith, love, steadfastness, gentleness. (1Tim 1:11) Fight the good fight of the faith taking hold of the eternal life to which we were called. (1Tim 1:12) May the God of peace himself sanctify you completely and may your whole spirit and soul and body be kept blameless at the coming of our Lord Jesus Christ. (1Thes 5:23) Our prayer should be that our love may abound more and more, with knowledge and all discernment, so that we may approve what is excellent, and so be pure and blameless for the day of Christ, filled with the fruit of righteousness. (Phil 1:9-11) We must exhort one another as long as it is called "today," than none of us may be hardened by the deceitfulness of sin – for we have come to share in Christ, if indeed we hold our original confidence firm to the end. (Heb 3:13-14)
References
Summary
Praying in the Spirit
There are two modes of praying: praying in tongues and praying with our mind. What are we to do? We are to pray in our spirit, but also pray with our mind also; we shall sing praise with our spirit, but also sing with our mind also. (1Cor 14:15) Speaking in a tongue is praying in such a way that you utter speech that is not intelligible. (1Cor 14:9) When you pray in a tongue, your spirit prays but your mind is unfruitful. (1Cor 14:14) Speaking in a tongue builds yourself up in the Spirit. (1Cor 14:4) It is the activity of speaking to yourself and to God – uttering mysteries in the Spirit. (1Cor 14:2) Doing so is tasting the heavenly gift and sharing in the Holy Spirit, partaking of the beautiful utterances of God. (Heb 6:4-5) The alternative to being drunk on wine is being filled with the Spirit – singing and making melody to the Lord with our heart. (Eph 5:18-19)
Paul, addressing the Corinthian church, wrote, "I want you all to speak in tongues." (1Cor 14:5) He said, "I thank God I speak in tongues more than all of you." (1Cor 14:18) The Spirit (God's controlling influence) helps us in our weakness. For we do not know what to pray for as we ought, but the Spirit intercedes for us with groanings too deep for words. (Rom 8:26) That which searches hearts knows what the mind of the Spirit is, because the Spirit intercedes for the saints according to the will of God. (Rom 8:27) We are urged to pray at all times in the Spirit, with all prayer and supplication. (Eph 6:18) We are to build ourselves up in our most holy faith and pray in the Holy Spirit, keeping ourselves in the love of God. (Jude 1:20-21)
To each is given the manifestation of the Spirit for the common good. (1Cor 12:7) We are to pursue love, and earnestly desire the spiritual gifts, especially that we may prophesy. (1Cor 14:1) The one who speaks in a tongue builds up himself, but the one who prophesies builds up the church. (1Cor 14:4) When we prophesy we speak from God as we are carried along by the Holy Spirit. (2Pet 1:21) We should all want to speak in tongues, and even more to prophesy. (1Cor 14:5) Do not forbid speaking in tongues and earnestly desire to prophesy. (1Cor 14:39) God bears witness by signs and wonders and various miracles and by gifts of the Holy Spirit distributed according to his will. (Heb 2:4) The gospel should not be shared in word only but also in power and in the Holy Spirit and with full conviction. (1Thes 1:5) Do not quench the Spirit. (1Thes 5:19) Do not despise prophecies. (1Thes 5:20) Test everything holding fast to what is good. (1Thes 5:21)
References
Summary
Pray without ceasing
In every place the people should pray, lifting holy hands without anger or quarreling. (1Tim 2:8) Let those who are suffering pray. Let those who are cheerful sing praise. (Jam 5:13) If anyone is sick, let them call for the elders of the church, and let them pray over them, anointing them with oil in the name of the Lord. (Jam 5:14) And the prayer of faith will save the one who is sick, and the Lord will raise them up, and their sins will be forgiven. (Jam 5:15) Confess your sins to one another and pray for one another, that you may be healed – the prayer of a righteous person has great power as it is working. (Jam 5:16)
Do not be anxious about anything, but in everything by prayer and supplication with thanksgiving let your requests be made known to God. (Phil 4:6) And the peace of God, which surpasses all understanding, will guard your hearts and your minds in Christ Jesus. (Phil 4:7) Nothing we consume is to be rejected if it is received with thanksgiving, for it is made holy by the word of God and prayer. (1Tim 4:4-5) A husband and wife should not deprive each other except perhaps by agreement for a limited time, that they may devote themselves to prayer. (1Cor 7:3-5)
Do not be slothful in zeal, be fervent in spirit, serve the Lord, rejoice in hope, be patient in tribulation, and be constant in prayer. (Rom 12:11-12) Continue steadfastly in prayer, being watchful in it with thanksgiving. (Col 4:2) Rejoice always, pray without ceasing, giving thanks in all circumstances; for this is the will of God in Christ Jesus for you. (1Thes 5:16-18) Do not quench the Spirit. (1Thess 5:19) Take up the sword of the Spirit, which is the word of God, praying at all times in the Spirit, with all prayer and supplications. (Eph 6:17-18) Beloved, build yourselves up in your most holy faith and pray in the Holy Spirit, keeping yourselves in the love of God, waiting for the mercy of our Lord Jesus Christ that leads to eternal life. (Jude 1:20-21)
References